The Naming Tool helps you with tedious naming tasks.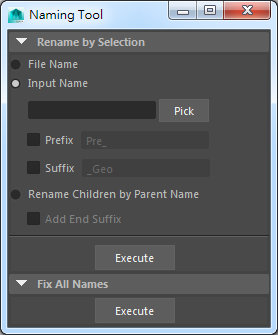 In the "Rename By Selection" Panel, you have 3 options to execute renaming:
File Name: Renames the selected items to the same name of the asset (also the Maya file). Serial numbers will be added to the names if there are more than one node selected.

Input Name: Input the desired name here, or press the "Pick" button and then click on a node in the scene to get the name from the picked node.

You may also activate "Prefix" or "Suffix" for adding some prefix or suffix text to the name(s)

Rename Children by Parent Name: Select the parent node and the children will be renamed after it with serial numbers.

Check "Add End Suffix" to add "_End" to the name(s) of terminal node(s).
Select one of the options then click "Execute" to finish renaming.
In the "Fix All Names" Panel, click "Execute" button to correct all the invalid names in the current asset.